Having completed the casual riding the tidal waves of commuter bikes on the Copenhagen bikelanes you might long for some tranquil paths in more green surroundings, with just some occasional airplanes taking off over your head – at least we do.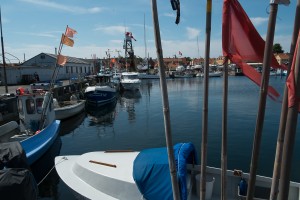 Arriving in Copenhagen by air, you might notice is that Copenhagen Airport is close to the city, but you might not know that it is within cycling distance, and with decent cycling roads.
Halfway around you stop by for refreshments at one of the many restaurants and cafées in the charming city of Dragør, spend time admiring the citys old houses and laid back maritime flavor, before you rush on.
The full round trip is aproximately 40,5 km, starting at the Town Hall Square, but you can of course start wherever you like. The route is not sign posted as such. You can either go happy-go-lucky, or bring a detailed map (downloading OpenStreetMap for your device is recommended).
Highlights
You go along the beach – with plenty of good places for a dip in the sea; the lovely old city of Dragør, Cycling along the perimeter of Copenhagen Airport; the rural land and woods of Kongelunden; the  military intelligence listening post; the bird sanctuary at the south tip of Amager. Seing Copenhagen from a new angle.
Technicalities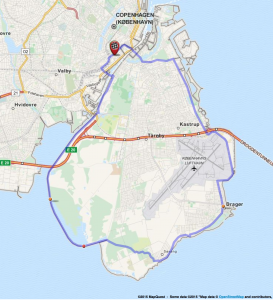 Most parts of the route are on asphalt, but minor parts are on rough gravel or dirt especially if you take the paths through the woods. If you don't like gravel, you can go almost the same route on roads – the on-road aproximation to the route is very popular amongst Copenhagens racing and sports communities.
The south-western part of Amager, around the bird sanctury is very exposed to the wind, since you go on the outside of the dam, so let the wind direction decide whether you go clockwise or not, to avoid a long stretch in headwind.