A while ago I had a German friend in Amsterdam, who invited me to visit him and his family. It fitted well into my work travelling plans because I already had a project meeting in the Netherlands. Unfortunately, the work calendar didn't fit with the calendar of Chris and his family.

To fly the short route from Copenhagen to Amsterdam two times within short time didn't seem reasonable. By far. It seemed wrong and boring. I wrote to Chris that I would come on my bike. He didn't believe me.
I typed A: Copenhagen and B: Amsterdam into the European route planner Naviki.org, pressed send and the result it gave me was an itinerary of 800 km, if I chose the shorter route. A plan was beginning to evolve. Because I already cycled the first part of the route last year, I cut off most of the Danish part and changed my starting point to Nykøbing Falster, the last regularly serviced train stop before Germany. The result was now 650 km.
4 days, I wrote to Chris, would I be on the road. I planned stopovers in Hamburg, Hannover and Münster before reaching my final destination. This meant a slight detour from the direct route, but it gave me the opportunity to visit friends along the way, which later proved to be a perfect investment.
In rush for the ferry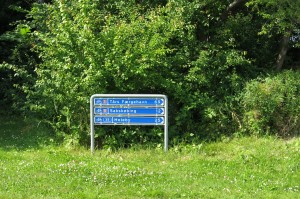 I started my tour on a Monday in July. Some of the Danish IC trains have a seperate compartment for bikes and odd sized luggage like child carriers and oversized suitcases, which is very convenient. This train had, and it wasn't full at all. Some two hours later I arrived in Nykøbing Falster, where not only the cycle tour but also the stress began. I had estimated the route to the ferry in Rødby to be around 40 km, which made the first leg a bit tight because the next ferry was in only 1 ½ hour.
It was indeed closer to 45 km, but the ferry was also 15 minutes later than I expected, so the two ends met and I could board the ferry all sweaty and warm for the first coffee of the day.
German tailwind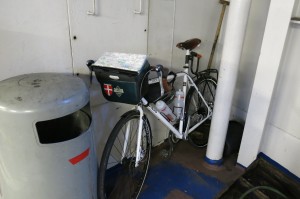 A tailwind gave me a good start once I reached German soil. I enjoyed cycling without looking at the clock every five minutes. I tried to stay on the official cycle routes, shown on my ADFC cycle map, but they crisscrossed a bit too much to make it a consequent solution. I navigated to the more direct roads and to my surprise found that most of them had separated bike ways. The only problem: they were in a bumpy condition. At least that was how it felt on the handlebar when going more than 25 km/h.
After cycling for a couple of hours it occured to me that the planed destination of Hamburg was a bit over the top for my first tour day. It would be more than 200 km in total, and whether it was a mental issue or a leftover from a longer bike tour a few weeks earlier, I couldn't say, but I began to feel a slight pain in my left knee. It didn't take me long to make Lübeck the final goal, and from there I would board a train to Hamburg.
Hamburg, meine Perle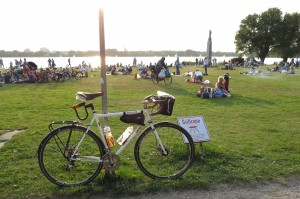 Around 9 p.m. I arrived in Hamburg. It was still warm and there was a good vibe around the Alster where the local crowd had their barbecues. I met up my girlfriend who had travelled the same stretch as I but without the bike part. We enjoyed some decent German food and a good Astra beer, while I was looking forward to my first and only day of rest before reaching Amsterdam.
Read the second part here -> On a bike to Amsterdam – part #2