Back in May my girlfriend and I were invited to Sweden by Björn from Kvinnaböske Krog & Hotell. Björn wanted to know how he could attract more Danish cyclists to the area and to his inn. Kvinnaböske, a small settlement of a few houses, lies between Båstad and Ängelholm in Western Scania. It is only a two hour train ride away from Copenhagen. Direct trains serve both cities every hour.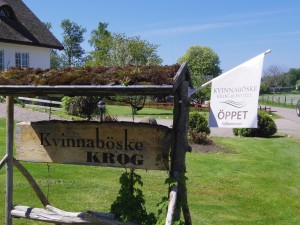 Kvinnaböske is situated at the foot of "Hallandsåsen", a horst on the border between Scania and Halland. It reaches its highest point at Högalteknall near the village of Hasslöv at 224 metres. The horst can be climbed from either North or South via a number of great, long ascents. Many of them reaches grades of 10% or more. For a Danish cyclist not being exploited with hills this alone is a reason to go.
On hilly roads
Björn had set me up with two local cyclists for a Sunday ride. After a hearty breakfast with some really tasting, homemade crispbread Anders and Joachim picked me up on their road bikes.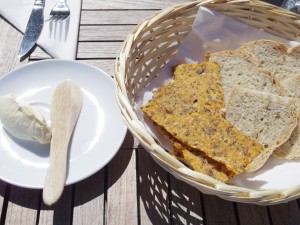 They were going to show me some of the best roads in their neighbourhood. I had the suspicion that it was going to be mountainous and regretted having only my touring bike at my disposal.
After just a few kilometres the first ascent made us shift to the small chainring. The grade was below 5% and it was only two kilometres long, but had it been in Denmark, it would have been something special. Such an ascent  would probably have attracted a few other road cyclists. Here in Sweden we had it all to ourselves.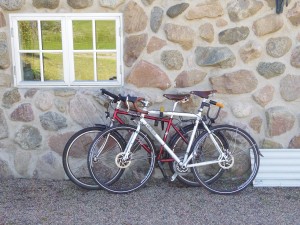 After the climb we stayed elevated at around 150 meters for a while, before a step, curved descent brought us down to sea level. We had now ridden 20 kilometres and crossed Hallandsåsen once. Two more crossings to go.
Cozy coast atmosphere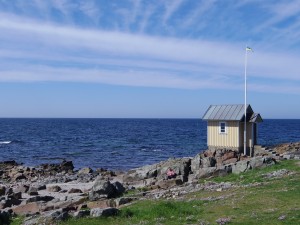 After the first crossing we went around the Northwestern part of the Bjäre peninsula. We quickly pasted through Båstad, a small city at the bay, cycled further to Hovs Hallar, a nature reserve where you can paraglide and climb, and turned around in Torekov, a small fishing village, which in summer is turned into a tourist hot spot.
After 2½ hours, 68.8 kilometres cycled and 891 meters climbed my two guides and I were back at the inn. Björn treated us with more crispbread and several thermos bottles of coffee as we talked about the highlights of the tour. The area can definitely be recommended to every road cyclist looking for quiet and hilly roads in a beautiful landscape. Also for mountainbikers there should be some thrilling tracks, Anders and Joachim told me.
Disclaimer: ibike.dk was invited by the Björn, who offered a 50% discount on the price of accommodation and food.
http://www.kvinnaboske.se/